CHATA News
CHATA Mixed Doubles Event 6-30-16
posted Jul 1st, 2016 by Tammy Michelle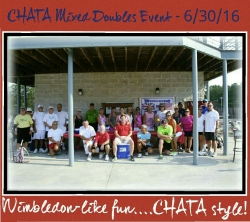 Wimbledon-like fun....CHATA style!
The event was run by Lisa Morman, CHATA's new Mixed Doubles Coordinator, and CHATA President, Tammy Green.
Lisa Morman, did a fantastic job with her first mixed doubles event! The food, decorations, and prizes were all ACES!
We would also like to thank all of the players/friends that helped make the event run smoothly by finding extra players, setting up, decorating, writing down scores, cleaning up afterwards, etc. It is a group effort and we couldn't do it without them. We always have a blast!
Can't wait for our next Mixed Doubles Event! Hope you can join us!!