CHATA News
Dec. 7th - 11th, 2016: Patti Teaver/Charter Bank Tennis Classic
posted Nov 18th, 2016 by Tammy Michelle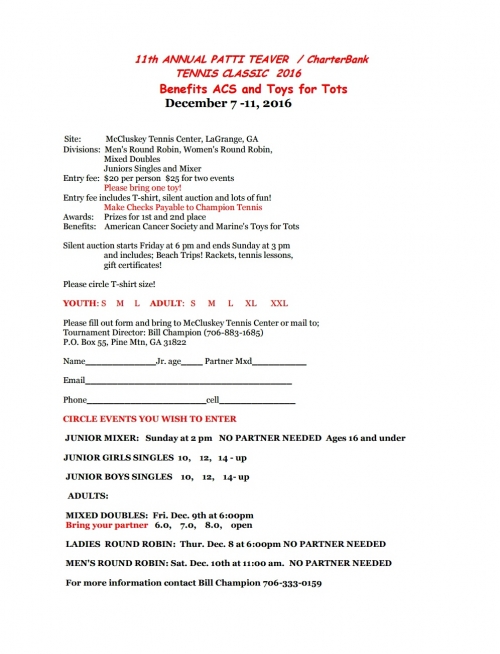 11th ANNUAL PATTI TEAVER/Charter Bank TENNIS CLASSIC 2016
December 7 -11, 2016
Site: McCluskey Tennis Center, LaGrange, GA
Divisions: Men's Round Robin, Women's Round Robin,
Mixed Doubles
Juniors Singles and Mixer
Entry fee: $20 per person , $25 for two events
Please bring one toy!
Awards: Prizes for 1st and 2nd place
Benefits: American Cancer Society and Marine's Toys for Tots
Silent auction starts Friday at 6 pm and ends Sunday at 3 pm and includes; Beach Trips! Rackets, tennis lessons, gift certificates!
For more information call Bill Champion @ 706-333-0159 or Tennis Shop @ 706-883-1683